Babysitting Co-ops
By Maggie B
Published 06/21/2009
Rating:
Maggie B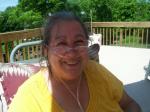 If you liked this post, check out more from Maggie B.
I think babysitting co-ops are something people with day care problems should look into it. It worked for us...my friend graduated from school and I was able to work without worrying. Was it always fair? No. Sometimes I watched her kids on my day off. Who cares? She was in school to make a better life for her family. I like knowing I played a part in it. Sometimes she kept an eye on mine so I could go grocery shopping in peace. Times were tough and I needed that.
We're in this world together!