Invictus:The Poem That Gave Mandela Strength
Published 01/23/2010

Unrated
Good Morning Starshine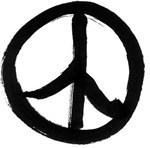 If you liked this post, check out more from Good Morning Starshine.
Sometimes a poem can be a really useful tool, something to remember and hold on to, a gift from one striving soul to another.
This poem was a pivotal part of the recently released film, Invictus, in which Nelson Mandela shares that it had inspired him during his 27 years in prison, helping him to "stand when all he wanted to do was lie down".
Thanks to Angelique Goodwin for posting this on Facebook today!
(from www.poemhunter.com)
***
Invictus
Out of the night that covers me,
Black as the Pit from pole to pole,
I thank whatever gods may be
For my unconquerable soul.

In the fell clutch of circumstance
I have not winced nor cried aloud.
Under the bludgeonings of chance
My head is bloody, but unbowed.

Beyond this place of wrath and tears
Looms but the Horror of the shade,
And yet the menace of the years
Finds, and shall find, me unafraid.

It matters not how strait the gate,
How charged with punishments the scroll.
I am the master of my fate:
I am the captain of my soul.

William Ernest Henley
Entertainment Tonight wrote:
Morgan Freeman is excited to hop on the plane next week and share 'Invictus' with "Madiba," Nelson Mandela's nickname in South Africa.
ET was with the cast on American soil Thursday night for the Los Angeles premiere of the film.
The newly crowned Best Actor by the National Board of Review said of screening the film for Mandela, "He's special and if we can do this for him, that'll be more than special."
Though director Clint Eastwood "will let the younger guy…like Morgan" make the long trip to South Africa, he did say the Oscar-winning actor "was born to play Nelson Mandela, so that should be no surprise that he's doing it and he really is quite splendid in it."