The Subject of Grace
Published 01/23/2010

Unrated
NotesAlong thePath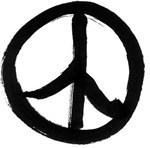 If you liked this post, check out more from NotesAlong thePath.
without grace
, the first side would crash through the floor and keep going. This wasn't shown to make me feel bad; it was shown so I would have a better understanding of what grace is. Here are two definitions from a dictionary:
Grace: A generosity of spirit, capacity to tolerate, accommodate, or forgive people; in Christianity, the infinite love, mercy, favor, and goodwill shown to humankind by God.
Grace is Love applied in our lives and our world. Grace flows from the God-seed within us, ever encouraging us to show compassion and mercy to others, as we hope they will do for us. We are asked to rise above our instinct to compare ourselves to others, as we are without the capacity to make a true measurement. (If we could see how much grace has been applied to us, we would indeed be humble people.) The instinct to not-see the whole of ourselves is why it is so hard for us to acknowledge that we even have a shadow-self, the darker part of ourselves ever chasing us—because we won't stop, turn around and see what is there. Our dark halves seek love and acceptance and at-one-ment with our best selves.
Here is another of my most hard-earned life lessons: We cannot become whole persons if we won't even consider that we have a shadow-self. Grace is the gift of infinite understanding, from which flows the courage to turn around and see what is there.