Amy Goodman, MLK and Partners in Health: Compassionate Witness in Haiti
Published 01/19/2010
Rating:
Good Morning Starshine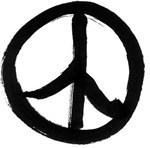 If you liked this post, check out more from Good Morning Starshine.
Democracy Now! journalist Amy Goodman has gone directly to Haiti this week, with her colleagues Sharif Abdel Kouddous and Elizabeth Press,
to experience the real conditions in the country. She must have done a little extra homework before she went, because her
fantastic MLK Day footage of "Beyond Vietnam" and "I Have Been to the Mountaintop,"
King's lesser known but richly accurate (and controversial) speeches, were still featured today.
"In 1957, a sensitive American official overseas said that it seemed to him that our nation was on the wrong side of a world revolution. During the past ten years, we have seen emerge a pattern of suppression...It is with such activity in mind that the words of the late John F. Kennedy come back to haunt us..."Those who make peaceful revolution impossible will make violent revolution inevitable."

"Increasingly, by choice or by accident, this is the role our nation has taken, the role of those who make peaceful revolution impossible by refusing to give up the privileges and the pleasures that come from the immense profits of overseas investments.

"I am convinced that if we are to get on the right side of the world revolution, we as a nation must undergo a radical revolution of values. We must rapidly begin the shift from a thing-oriented society to a person-oriented society...A true revolution of values will soon look uneasily on the glaring contrast of poverty and wealth. A nation that continues year after year to spend more money on military defense than on programs of social uplift is approaching spiritual death.

"This call for a worldwide fellowship that lifts neighborly concern beyond one's tribe, race, class and nation is in reality a call for an all-embracing and unconditional love for all mankind... I'm speaking of that force which all of the great religions have seen as the supreme unifying principle of life. Love is somehow the key that unlocks the door which leads to ultimate reality."
***
What Amy shares and shows in her frequent updates, has been heart-rending.
She is connecting with people and serving as an independent monitor of governmental and relief organizations in the aftermath of last week's devastating earthquake.
You can keep in touch with their daily stories through Twitter, Facebook or
this link
to her blog.
****
Partners in Health is a special organization,
because they "live and work within communities to help build and strengthen health systems; to deliver and sustain medical, social, and economic services; and to promote solidarity."
So it's especially fitting, and an extra blessing, that
one young couple decided to contribute a big part of their wedding fund to Partners in Health's efforts after last week's devastating earthquake.
You'll see in the story below, how their decision to make this gift will only strengthen the meaning of their special day. When ordinary people reach far beyond their circle to do what they can to ease the suffering of people they will never even meet, it's a big step out into a powerful sense of global love.
from the
Partners in Health
website:
Our partners in health: Leah Bogen, Bride-to-be
01/18/2010
We've been incredibly touched and inspired by the outpouring of support we've received over the past 6 days. From to celebrities to sports teams to activists--we are so thankful to all our partners in health. Below is a message from one of the thousands of supporters standing in solidarity with PIH, and with the people of Haiti.
Leah Bogen and her fiance Will.
Today I donated the food budget for my wedding to relief efforts in Haiti.
Getting married and planning the perfect wedding is something most women, including me, dream about for a very long time. The perfect dress, decorations, catering, flowers, cakes, the list goes on and on. It is my chance to be "queen for a day" and it feels great. My fiancé and I have been planning our wedding for a few months now, meeting with vendors, setting our budget and having many long conversations about creating the perfect wedding.
Running in tandem with our wedding planning conversations over the past few days has been the horror and human tragedy in Haiti.
I woke up Sunday morning and sat down with a cup of coffee and the newspaper and read about people with no food or water, having limbs amputated in makeshift hospitals in a last chance effort to save their lives. I suggested to my fiancé right then that we should donate part of our wedding budget to disaster relief in Haiti. Anyone who has planned a wedding knows how tight the budget can get, but without a moment's pause he said "YES! I love you SO much!"

We have decided to donate our food budget - 25% of our wedding funds - to aid victims of the Haiti earthquake. Our friends and family can go without a fancy wedding dinner, especially if it means helping provide food, medical care and shelter for those desperately in need.
The tragedy in Haiti is so huge I hope that other brides- to-be will take this message to heart and find a way to donate to a relief organization. Find something in your wedding budget that you don't need and just cut it out. Assess what is most important to you on your wedding day, harness your bride-power, and take action to do something that will make your wedding unbelievably meaningful! Your wedding will be spectacular, and the money you donate will make a huge difference to someone in dire need.
Sincerely,
Leah Bogen
Duluth, MN
P.S. My fiance suggested your organization as the group we should donate too, you have done amazing work already and we know you will still be in Haiti long after the hype dies down and other groups leave. We hope others will do the same, and find money in their budget that they can do without.