Coming Home to the Heart of God: Agape International
Published 01/18/2010

Unrated
Good Morning Starshine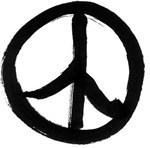 If you liked this post, check out more from Good Morning Starshine.
Today a friend and I visited the famed Agape International Spiritual Center in West Los Angeles (Culver City.) "Agape,"
as you probably already know, is the Greek word for selfless love.
I'd heard great things about this
New Thought megachurch
for well over a decade, but had never been. The 1500-seat sanctuary was full for both the 11:00 service and the special
Love Concert to benefit Haiti
, which followed at 2:30. The congregation is racially diverse and the teachings of the church are on the adventurous side of Science of Mind.
They really take the whole metaphysical ministry thing to a whole other level, as they affirm that
each person is a unique expression of beauty, freedom and joy
- not just theoretically, but with such an energetic delivery, that you can really feel it as a living reality, right now.
Dr. Michael Beckwith and his partner, Dr. Rickie Byars Beckwith, have set a tone of exquisite tenderness and authenticity that is disarmingly effective, especially for a gathering of that size. I finally understand why this is the church of choice for all of my "spiritual but not religious" friends in Southern California.
Some great quotes from the Agape materials:
Living as love is a way of life that brings heaven on earth.

You don't have to "get your act together" to start being a positive presence on the planet, a spiritual revolutionary.

Agape's vision is fueled by the love of God, the One, indefinable yet unmistakable Presence whose vehicle on earth is the human heart and soul.

The Concert, to raise funds and supplies for Haiti,
was love-filled and full of surprises and celebrity appearances. Agape's ministry is very music and art-oriented, and we were treated to one knockout performance after another. But I think my favorite moment was when
Teena Marie
came on stage looking like the lady you might be standing in line behind at the grocery store - wearing just a simple sweater and jeans, her hair pulled back in a ponytail. Then, with outrageous verve and mastery, she belted out a
full-choir gospel tune about...reincarnation!
Where else
on the planet
are you going to experience something like that?