Good Manners
By Maggie B
Published 06/19/2009
Rating:
Maggie B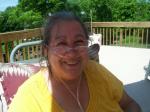 If you liked this post, check out more from Maggie B.
I remember riding the subway once with my grandson. He was about 10 years old and we were on a crowded train, heading home after enjoying a baseball game at Yankee Stadium. There were only 2 emptly seats and he had to sit across the aisle from me. The car got more and more crowded and I couldn't see him. As the crowd thinned, my heart jumped to my throat when I saw he wasn't sitting where he had been. Then I saw him...he had given up his seat to a woman holding a toddler.
He had done it without being asked...he gave up his seat because a young woman was struggling to hold her baby in the crowded car. He gave up his seat because he had good manners. I was so proud of him!