Sin and Success
Published 01/15/2010

Unrated
NotesAlong thePath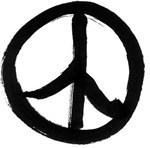 If you liked this post, check out more from NotesAlong thePath.
I woke up this morning thinking of people I had met only once and hadn't seen for over 20 years: a group of disabled inmates at the Nevada State Prison in the capitol, Carson City. Friends and I had begun a small community newspaper and we were there to interview the warden and these men about their complaints. The inmates were chronically ill or disabled, bent, walking with canes and crutches, or living in wheelchairs. They were deeply scarred, deeply hurt and had just as deeply hurt and mistreated others. Though they were as unhappy a group as you could find, the moment I took their picture is frozen in my mind because out of my mouth came, "Okay, guys. Look as miserable as you can," and they all laughed. In that second, I snapped their picture.
Why did I remember them this morning? I guess it's because now I am chronically ill and disabled, and all these years later I know there is much more to being born and growing up, to making a life.
We are clumped together by our sins and successes, if you think about it. But we are more than our mistakes and our ambitions. What if, before we were born, we did choose our parents, our lives? And, why would anyone pick a life of disease and law-breaking? Why not choose the parents who live in the huge house on top of the hill? Or parents with a huge, happy extended family?
Because each of us is exactly where we are meant to be. And this is where the sticky subject of reincarnation comes up. Actually, lots of people believe in reincarnation. Some people have had vivid dreams of being another person, or have significant talents with no formal training. Others experience a deep longing for another city or country and once there, they feel like they've come home. For some, though, the subject of reincarnation is still blasphemy.
But what if there is a giant record of everything that's ever happened on Earth and to each of our souls? What if life is like a library full of a gazillion stories and we get to choose a different book for each life? What if, from that more impersonal place, we look at the sum total of who we have become and say, "Yes, I need to experience this, or that," then hand the book to our Creator, and say, "This one, please."
If all this were true, I think we'd be more compassionate people. Especially if we knew it was true–if we remembered being both a queen and a criminal, a teacher and a slave, sick and healthy and rich and poor. It would be a lot harder to judge other people.