Clowning and Caring: Patch Adams
Published 01/8/2010
Rating:
Good Morning Starshine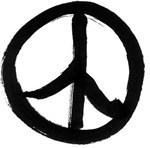 If you liked this post, check out more from Good Morning Starshine.
The fact that Patch Adams exists makes me very, very happy!
He's a doctor, a poetry aficionado, a social visionary and monkeywrencher, a global humanitarian and... a clown. What you might call a Real Human Being, he shows me that there are an infinite number of ways to be effective in life, by being oneself and working outside (or even within) one's comfort zone.
Oh, and he's
raising money for a hospital.
Here's a bio, from his website:
www.patchadams.org
What he's up to TODAY:
CLOWNING AND CARING in ECUADOR
January 2-8, 2010
Gesundheit! Institute and the School for Designing a Society invite you to participate in CLOWNING AND CARING, an educational clown tour in Ecuador.
The tour will combine daily clowning with daily workshops in imagination and inquiry into the locale of our clowning.
Ecuador
, on the equator in northwestern South America, is one of the seventeen megadiverse countries, hosting a great variety of endemic species of flora and fauna.
Its 2009 constitution is the first in the world to ensure Rights of Nature (ecosystem rights).
The capital city of Quito (where we'll be) has been named a World Heritage Site for having the best maintained and least changed historic city center in Latin America.
In addition to clowning and care in clinical settings, there will be daily practical workshops in clown technique, love strategy and reflection on where we are. Patch Adams will be leading this trip.

Themes
Day 1, afternoon:
The Red Badge of Courage: the Clown and the Nose The politics of 'help': exactly who am I 'helping' when I clown? 'Them'? 'Me'? 'It?' Charity versus bi-directional care. Clowning as anti-hierarchical intervention, clowning as invitation to social chaos, as a trick to bring love close, as warming up public spaces.
Day 1, evening:
The Art of Making small things BIG, so as to make BIG THINGS small Clowning as a way of making small things (small actions of kindness, simple props, "fictional" premises) BIG in order to make BIG things (overwhelming grief, pain) small. Clowning as a way to invert a disproportionate relationship between joy and suffering.
Day 2: What is YOUR love STRATEGY?
A 3-hour workshop with Patch Adams: how love is thoughtful action, not only emotional expression. Discussion on how to design strategies for showing and engendering 'love'. Hands on exercises.
Day 3: WHERE AM I?
Eyes on Ecuador, I: Where are we? What is it? Who are 'we' in it? How to 'look a system' when visiting another country briefly? Discussion of the economic, historical, ecological, cultural, compositional life of Ecuador.
Day 4: W(here I am!!!)HERE AM I?
Eyes on Ecuador, II: discussion of domains of personal, communal, public. New questions for old answers, new answers for old questions.
Day 5: Synthesis
of our week's experience Talk back sessions in small and large groups: Have I changed? Has it? What's my next step?
Instructors/Facilitators
Patch Adams
—entered medical school in 1967 to use medicine as a vehicle for social change; promotes and practices living a life of public joy as a revolutionary act; fount of ideas for avoiding burn-out in long-term social justice and health. Enthusiator.
Susan Parenti
—composer, playwright, pianist, accordionist, poet, virtuoso speaker; critical observer & dramatizer of language's troubled relation to thought; composing not only pieces but also contexts where pieces might function: house theater, scripted rehearsal, timed discussion. Adept at making her personal curiosity social.
Mark Enslin
—composer, actor, bassoonist, guitarist, oud player, apprentice tabla player, listener, teaching composition facing the power of the respondent, assignment as an art form.
Melanie Meltzer
—clown and scholar, mover and steadier, catalyst.
Jacob Barton
—composer, inventor of instruments and of means, aspiring metaclown, language hacker

Further playful readings on clowning:
Re-Designing the Character of the Care-Actor by Susan Parenti
Metaclown by Jacob Barton