"Decembers Community Project"
Published 12/7/2009
Rating:
Kindness Matters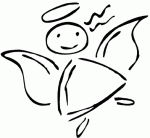 If you liked this post, check out more from Kindness Matters.
Oh my. . . the expression on her face was of pure gratitude, I got the open mouth and wide eyes which made me feel so good. I could tell by her expression how grateful she was. I don't know her story, but I can bet it came in handy during this time of year.
I love this months community project. I have had a picture all weekend of the waitress's wide eyes. Everytime I picture it I smile. Thinking of what I will do next week hmmm. . .