Today I am Thankful for all the Wonderful Blessings
Published 11/26/2009
Rating:
Spiritoftheraven Dancer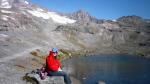 If you liked this post, check out more from Spiritoftheraven Dancer.
Today on Thanksgiving I am thankful for the abundance of food and drink that Mother Earth Provides for us. The universe is an abundant and fruitful place that nourishes us with love and kindness. I am thankful for the love and support of all my family friends who support me unconditionally in every way. On this day I send blessings and thoughts of Love out to everyone on the planet, who may feel in lack of, yet we really are truly abundant in every way when we stop to recognize all the amazing resources that this earth gives to us. When I look at all the evergreen trees where I live, I see abundance and life force that keeps our earth healthy. Everything is here for us to be an abundant and healthy planet that provides for all. We are truly blessed and prosperous in every way.
I am also thankful for everyone here who shares their positive and loving thoughts to help create a better world. One that provides hope, love and light to help heal and mend those who are broken. Thank you everyone for all you do to make this planet a better place.


"For flowers that bloom about our feet;
For tender grass, so fresh, so sweet;
For song of bird, and hum of bee;
For all things fair we hear or see,
Father in heaven, we thank Thee!" -Ralph Waldo Emerson

Peace and Abundant Joy to all