Kim DuBois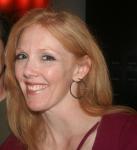 If you liked this post, check out more from Kim DuBois.
I am grateful for the soft green grass and the beautiful blue sky above me as I sit for awhile, filling my soul, taking it all in… I am grateful for the music that fills my ears, uplifting me, motivating me and reminding me that passion is the fire that ignites me… I am grateful for my children, so unique, so individual and so powerful, each in their own way… I am grateful for love and for the ability to love others as well as the courage to love myself… I am grateful for my home and for the inviting energy, the welcoming warmth I feel as I walk through the door… I am grateful for my car, my 'baby' as she carries us safely, dependably anywhere we need to go, never a single complaint… I am grateful for my parents for giving me all the tools and knowledge and beliefs I needed so long ago, that formed this life I've called my own… I am grateful for the sun shining on my window and the dappled shadows cast by the graceful leaves of the tree outside… I am grateful for my body and how I can run and do and breathe and live exactly as I choose to, strong and healthy… I am grateful for the friend who has always been there for me, an ear or a shoulder or whatever else was needed… And I am grateful to that same friend for showing me everything I never wanted to see, but needed to anyway… I am grateful for all the wonderful things that have ever happened to me, filling my life with more joy than I have at times dared to dream possible… And I am especially grateful for all the painful things in my life, that stark contrast and bold color, for without it, how would I have ever grown and become who I am now…
… I am grateful for this thing that is my life, and for everything in it, I am grateful.
Have a wonderful, gracious and

loving Thanksgiving.

My best wishes to you all.