Inspirational Quote
Published 11/12/2009
Rating:
Peaceful World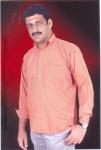 If you liked this post, check out more from Peaceful World.
"God admires us not for what we do but for how much love we put into what we do.
Together let us build a chain of love around the world."
"In the developed countries there is a poverty of intimacy,
a poverty of spirit, of loneliness, of lack of love.
There is no greater sickness in the world today than that one."
"We cannot all do great things.But we can do small things with great love."
Mother Teresa