John Kitsco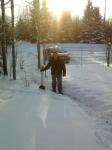 If you liked this post, check out more from John Kitsco.
Well along came the month of May and it seemed a good time to take apart a greenhouse. First it took a good seven hours to move the glass and on the second day, a rainy day at that, another seven hours and I had the frame in pieces, neatly stored until such time I am ready to put the greenhouse back together.
It seemed easy enough at the time, but turns out some panes of glass were about forty five inches by
a good seventy eight inches high...and heavy, actually very heavy. And I began to wonder, is this such a great idea? But I never leave something unfinished, just the way I am, so continued to work with hammer and crowbar and pry-bar and the good ole Phillips screwdriver. And yes, the ole body was sore after all that hard labour, but something inside felt good, felt right, I kept trying to convince my wife that yes, this is the right idea...
but I must have looked like I aged another 30 years after working in the rain for that last seven hours...
and what you have to do in a situation of doubt is to use that magical word reinforcement or should that be - just force oneself to keep going, imagine all those green and leafy vegetables. Ya right....
now, you go ahead and tell my chiropractor that!!!
Would I do it again....ahh, maybe!!!