TATTOO ARTIST PERSPECTIVE: I---WE---YOU---?
Published 02/10/2010
Rating:
Nancey Collette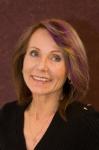 If you liked this post, check out more from Nancey Collette.
When somesone much different than yourself comes into your life, welcome that individual, they are there to teach 'YOU' something you need to know to get to the next level or either 'YOU are there to teach them. Sometimes you will never know which but the teaching is there.
Don't judge another based on status, clothes, job, finances, etc.Accept that individual as a 'WE' and learn. 'WE' were created in His image.